Hello summoners, here comes my second thread for meta analysis, this time for the upcoming patch 14.1.
On the previous thread for version 14.0
 I said I would be posting on September 10, but I decided to go ahead and post before that, and then update the thread as content is being released.
Today I'll be updating with the content from the patch preview, discuss the event cards and stuff that was missing from the previous meta thread like Maya and the Awakening Recall (limit break) system.
1. Event Cards:

Summer
The new MadHead mascot and image of the community manager got her representation as a card on this patch, her stats are mediocre, but what really makes her shine is that her skill allows you to refresh/convert the entire board, on the
same way as Diablo
but without the increased appearance of heart runes, this can really help to clear locked, weakened, and masked runes. What really bothers me is that she is only available for one week and her stage costs 40 Stamina, personally I'm not willing to farm her skill level. She also got an outfit...
Exoskeleton Summer
She looks like she received some help from Cyborg Scholars or Transformed Maidens, and during the first release she got stats akin of those of a Dragon, most players complained because of the low recovery which personally I found absurd because most of water-human teams already have around 2500-3000 and giving up some of that REC for the double amount of HP was ok, but... all of the sudden
MadHead decided to nerf her
on the second day after her release, apparently that stat change was actually a bug so they reduced her stats, I can't check the stats but it seems she is retaining her base outfit stats now ?.
Diabolical Summer
On another event we got this mysterious card, which has no skills but requires 5 million exp to max unlike the water version which required 500k. There is a lot of speculation around this card, some say she is a trigger for a next event, or maybe she is going to get an eventual evolution. Her stats are literally the same as the water version... Let's hope MadHead is not trolling and actually turns her in to something useful.
Terry
He was nerfed a lot!!! I remember that in his original showcase his active skill changed enemy drop to 1 diamond instead of anything, but I guess Terry himself is keeping that card for him and gave us the actual story farmer with built-in lazy mode 50k direct damage.
2. Black Cards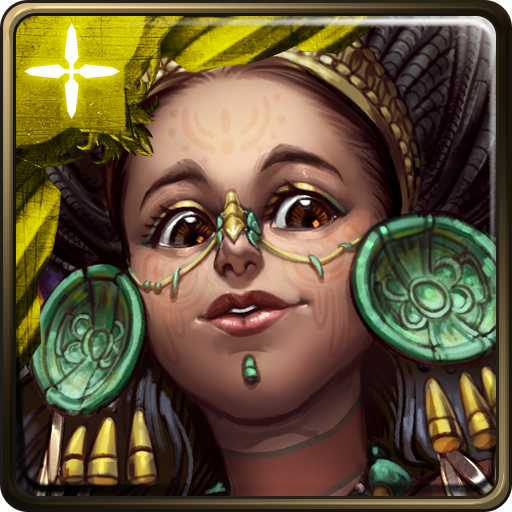 Maya the Calendar Creator
She is the second card of the Genesis series, and this time MadHead finally decided to introduce a new leader for Michael Lucifer who was being neglected since Beelzebub release (technically you could have used 
Peryton
as leader, but the team cost was nuts). Maya comes to help light mono with the match 3 gameplay of Guan Yu, Pontos and Erebus, but in addition she got access to a X-shape rune dissolve before the turns ends, which can drastically increase the team skydrop. Many players are complaining that she is underpowered compared to Tan Sanzang, Rankshasa or even Anubis, and because of that 
MadHead decided that they will be rolling some buffs for her on next month
(version 14.2 probably), it seems that the reason is because she needs a lot of team cost to add members that can be effective, and also newbies can't handle the X-shape dissolve properly while pro players can exploit to get the most out of it.
Personally what I've enjoyed the most from her is how people is using Virgo and Lyra instead of the standard Lucifer setup, which is also being buffed with Luna Awakening Recall, but more of that later in this same thread.
3. Awakening Recall
The Awakening Recall system, originally introduced as Limit Break in the rough translation can further increase the stats of cards with a story mode (10% according to joetjef), they also can get new skills or passive skills that work on many different ways. MadHead decided to buff the 12 Zodiacs series with this, I guess because Virtual Rebirth doesn't make sense for them, they never managed to stand out as leaders because of their bad multipliers.
Aries of Courage - Poppy
This control skill got improved by a lot, but the condition is not that friendly for people that don't know how to stack runes. She is now 1.5x booster and on top of that you can use 2 Poppy, triggering the second one when the effect of the other one is over for a total of 10 turns stun, I know there is a video of this with Amaterasu as leader somewhere on Facebook but I can't find it right now.
Taurus of Berserker - Armstrong
Sigh, I feel so bad for Taurus, he never gets to shine other than in grind teams, we all know that Wild Warrior/Berserker skill is only good if you have members with low cooldown or skills that have continuous effect like the enchantress, his skill can trigger a 1 turn tumbler, and that is it, you can no longer trigger that effect again, it's really lame when compared to the rest of the effects the other cards are getting.
Gemini of Recall - Castor & Pollux
I guess this is the best skill for the entire chapter 1 Awakening Recall, he is better than Lancelot now because as far as I know, that self-attack x6 can't be cleared. The only thing that bothers me is that we usually don't need heart converters anymore, but I guess this skill precisely solves the need of adding someone like Basti, Lancelot or Ed and getting the heart utility on top of that.
He protec but he also attac
.
So far I've seen good grind combos of Luna and Pollux with Daji leader and Wukong as ally, this combo can work on Amaterasu and Ophiuchus as well, because of god race lol, but so far I haven't seen anyone testing that out.
Cancer of Resolution - John
Cancer has always been one of the most conditional cards in the game, and has lost popularity since better snipers have come in to play like Osiris. But now he is more useful than before, he is the solution to one of the most annoying skills ever! and that is the Initial Shield, in expense of 50% of your health you can attack an enemy with Initial shield, so try to burst after using this skill.
Leo of Gallantry - Galio
So close, so far, his skill works as critical chance, not bad but only applies for light monsters and that is meh because we know that Leo has always been a good filler for Hades, yet he got a good spot on Maya now where we players can bring Kejouro, Lyra and Virgo as low CD members, the passive is meant to have synergy with his active skill, so after canceling the skill of other members they will have the x2 from the active and the 35% chance for x2 additionally.
Check the spoiler for a video of Galio in action
Virgo of Guardian - Persephone
Right now Persephone is turned in to a powerhouse, CD 5 (3at the start of the stage), 1.5x on first turn of the effect and being able to launch 2 extra attack, having 2 Persephone in the team means you are launching 6 attacks totals in the same turn just from them. Also that extra fire attack can come in handy to deal with those shields that reduce light and dark damage by 90%. You can check Virgo in action on the same video I linked on Maya description.
Check the second post for the upcoming Awakening Recall skills.
---
[GOS] Oriceles
. UID: 64,287,068
Common adjutants
: Latest patch members I manage to grab lol.
I'm 
Guild of Saviors
president, if you want to join be sure to join the Discord server for information.