12-14-2013, 05:00 PM (This post was last modified: 04-25-2015, 03:01 AM by ralfhero. Edit Reason: Cause I am the Dark Lord, Bite Me!! )
Guide updating to the version 8.0 (-_- I'm just taking my time...)
I'm doing changes to my guide, please bear with it and please, please give suggestion
As usual I will unselfishly put in all my knowledge, it may get coarse, boring and repulsive to some players at some point so if you find the need to voice it out please do it constructively
I do not know it all but I do hope my over 700 days of game play will let my experience help you in any way possible.
---
---
What is new in 8.0?
---
---
---
---
Skip if you don't bother
skip the whole guide for all I care
---
---
---
---
***GREEKS (Detail information, VERY detail)
***GREEKS (Point Form Version)
[Pros:]
Highest combo team
[Pros:]
Highest burst damage team
[Pros:]
When sky combo is going, 3 heart runes is sufficient to heal all your health
[Pros:]
Farming is very fast and easy
[Pros:]
Artemis is just as sexy as it gets
[Cons:]
Low recovery (recovery is good when sky combo is achieved)
[Cons:]
Difficult to master and need lots of practice
[Cons:]
Recently nerf by MH on runes drop, no longer as powerful
[Cons:]
Can only ally another Artemis
[Cons:]
High luck base, depend on good sky drop to get powerful burst
[Cons:]
Very weak against combo shield enemies
ralfhero Wrote:I've leveled my Artemis to skill level 10 without using any harpy so I can share from my experience that Greeks are very very hard to learn and use.
Especially after the recent nerf by MH. I will recommend summoners to play Norse team instead since there is PR Loki.
I love the constant runes drop that Artemis give but as more and more enemies are created to counter Greeks, I been setting my Artemis aside and playing my Norse team more.
Zeus and Hades is important for Artemis
-------------------------------
3.1 Greeks Burst
Greeks depend on sky drop to boost their damage, so the more dark runes you dissolved the more chance a good sky drop will happen. This is why runes convertor cards are important for Greek team. I will list below some example of Greek team for you to consider making.
-
Team Cost 83, Lv 146
Allow at least 2 rounds of full burst
Good for stages that got mini boss before the main boss
[Usage]Activate Xi then either use Gemini + SGB burst or Sirius burst
-
Team Cost 95, Lv 170
Allow at least 2 rounds of full burst / 1 very powerful burst
You can always switch to Norse team
Switch Scorpio for Gemini or Shen
[Usage]1 powerful burst: At low HP, convert runes to dark, use Odin, use Loki
[Usage]2 full burst: (1)Use Scorpio, use Scorpio burst (2)Use PR Loki + Odin team skill and burst
So you want to get the biggest boom?
Active them all, PR Endor last, Hades will give all Amoli4 active for higher burst.
This is my team and your argument is invalid
ralfhero Wrote:Notice!!
Only use PR Endor if you plan to burst once.
She will create 3 top rows and when 3 top rows are gone, you will have no more dark runes.
She goes well with Artemis + Zeus combo for higher burst.
-------------------------------
3.2 Greeks Variation
It is not a must to use Mono dark for Greeks team, I started off my Greek team with the team below, allowing me to clear 6th seal.
-
Team cost 46, Lv 72
In my journey of learning Greek I learn the different ways people play with other Greeks team yielding some amazing result.
ralfhero Wrote:Greek dark mono is very versatile, with just Artemis from diamond seal card you can get a Greek team running, this is the main reason why I love using them. The rest of the cards can be obtain from friend seal or farm at island but the best Greeks team will only come from diamond seals and GM/SM battles.
---
---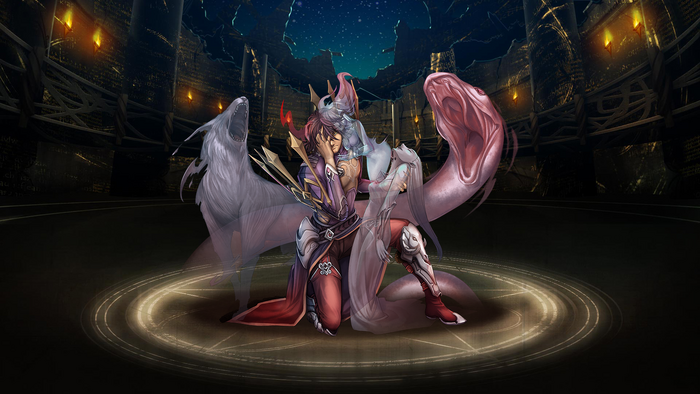 ***NORSE (Detail information, VERY detail)
***NORSE (Point Form Version)
[Pros:]
Most stable & consistence damage team
[Pros:]
Able to handle almost all of the GM/SM battles.
[Pros:]
Able to clear transmigration
[Pros:]
Able to use Daji the sexy fox
[Cons:]
May end up without dark runes if not careful
[Cons:]
Too many dark runes after convert will also cause an issue unless you learn the Pyramid way of stacking runes. (Refer Section 6)
ralfhero Wrote:My PR Loki is skill 11 without using Harpy, I used it a lot
Since Loki got the PR, there is really no other card that can replace Loki as leader for dark norse unless of cause you got the foxy daji. PR G dragon may subsitute PR Loki but you won't have PR Loki + Odin team skill which made the team less versitile.
Generally Dual PR Loki is better for farming and PR Loki + Daji is better when you can constantly make 5+ combos.
-------------------------------
4.1 Norse Burst
This 2 is the soul of Norse team. When they are fully evolved and above level 50, they have a hidden team skill that will turn all light and heart runes to enchanted dark runes. All Norse dark mono should compromise of them.
PR Loki do not need to be leader for the hidden skill to be in effect, even as ally the hidden skill will activate.
Any 2 below together will give you solid bursting ability
Felix and Daji are perfect together, able to burst without any dark runes in sight
This is how I came up with the standard standard Norse team
- Require team cost 99, Lv178
[Usage]
[1]Give max burst by getting HP to 20% or near, use Gemini+SGB+ PR Loki+Odin+Felix+Daji
[2]2 times worth of burst by Gemini+SGB+PR Loki, let enemy hit once then Odin+Felix+Daji or
[3]3 times worth of good burst Gemini+SGB, Felix+Daji, PR Loki+Odin(team skill)
Refer to
for replacements if you don't have the cards or Team Cost to use the team.
-------------
Some of the major cards that is suitable to be in Norse team, obviously not everybody like the standard team and some won't have certain cards in their inventory.
PR Loki + Odin is the soul of the Norse team
2 Convertor is preferred (Gemini,SGB,Scorpio)
That leave you a slot, it will be perfect to have a 2nd Odin inside but you need to be over level 230 to do that so below are the cards I recommend as the 5th member of the team.
-------------
Some Pro Team recommendation
ralfhero Wrote:Norse is able to adapt accordingly to different battles, it is the perfect team to "storm the front"
I hope this will give a brief understanding of Norse team.
-------------------------------
4.1 Norse Defensive
Using him as leader and ally Daji is not bad as a defense team, this is actually one of the top defensive team, some stages recommend this to win.
Easy huh this 2 card being the only defense card
- Require team cost 87, Lv146
Actually one of the top 3 defensive team there is
- (Nightcat's suggestion)
ralfhero Wrote:FAQ---
PR Loki + PR Loki or PR Loki + Daji?
If you're doing 3-5 combo, I will suggest you taking PR Loki + PR Loki
PR Loki + Daji is better when you can constantly make above 5combo.
If you know the boss will have combo shield, use Loki + Loki.
---
---
PR Egyptian!!! This god created a whole new team to play with and very popular in the mutiplayer
I introduce you, the sniper team
Sniper team has been thought of for some time now before PR Egyptian came out, it is the new cards that came out that really made this team the hype.
PR Egyptian is best used aganist wood and light enemies, they increase 3x damage to wood and light but only 1.5x to the rest. This also affect active skill that deal dark damage.
Steam Infantry
Martial Wizard Geppetto
This 2 unit store 10k damage every turn runes are dissolved to max 100k damage, when used with leader & ally PR Egyptian it will x9 the active damage... hence the sniper team is formed. What make it better is the 2 unit max CD is only 1... having 4 of them in your team all max CD you can snipe every 2 turn of more then 400k damage to wood and light... scary....
Units that also deal dark damage and can be used as member for this team but the best will still be the 2 units above.
Cancer deal non element damage... too bad
---
---
I'll be going into runes stacking method which is very useful for Dark Mono especially when you're using Daji as ally.
Do note that I am not the inventor of Pyramid stacking and I just name it that since it look that way. I want to thank my beloved qtphi21 for showing me the link so I can learn this method of runes movement.
This method is explained in Chinese forum and I just merely translate it over and adding many of my own words so if you're interested in looking up yourself please head over to
http://forum.gamer.com.tw/
and mainly search under user WatPoint as I learn most of the skills from his thread.
Q..What is pyramid runes stacking?!
If you're not using Greeks, after doing runes convert you may end up with too many runes of the same color, having a whole block of same color runes will lessen the combo count and cause your burst damage to drop. Especially when you using Daji you will want as many combo count as you can make.
From the pic you can see there is a lot of dark color runes and usually players will arrange the runes in this way which will allow 6 combos (not counting extra runes drop) With daji as ally this will give a +500% to your attack
From the pic you can see I've used the same amount of runes and use the pyramid style to get a higher combo count. This way of stacking will allow a 8 combo (not counting extra runes drop) and with daji this will give a +700% to your attack, 200% more compare to the normal way of stacking runes.
After the initial dissolve of 4 combo runes, the pic above show what runes are left before another 4 combo are dissolve.
Another advantage of pyramid style runes stacking is after the initial runes dissolved, the next 4 combo are dissolved 1 by 1 allowing more movement in the runes box, more movement will give you higher chance of combo appearing from the dropped runes. This is how I plan for 8 combo but come out over 10 combo without the use of dual Greeks.
I'll put the link below of youtube video if you want to learn more of this method of stacking
http://www.youtube.com/watch?v=WxAYF9t_vVY
http://www.youtube.com/watch?v=qGaLgi2N6jg
---
---
If you plan to use PR Endor with Daji any where inside the team, you must really learn this scramble and unscramble method of moving runes, this will increase your burst heavenly but at the expense of a turn.
For the ease of understanding we will take the perfect scenario.
Anyone who used Daji skill will know this is the best arrangement you can ever make, giving a perfect 10 combo.
After you arrange the runes perfectly, you need to scramble it
By holding the 2nd rune in the picture above and moving it according to the arrows, you will end up with this
Now all you need to do after you activate PR Endor skill is to reverse the arrows movement to unscramble the runes and continue to arrange the top 3 rows that appear after using PR Endor skill and you will have at least over 10 combo and the more combos that come out, the louder Daji will laugh at the enemies
If possible, remember to end your movement at the spot where you started else you will have 1 combo less.
ralfhero Wrote:

This is my team and my burst cycle
[1]Activate your runes convertor, make sure not to have too many dark runes else this combo won't work
[2]Activate daji skill and arrange the runes and scramble it (1 turn wasted)
[3]If you can survive 1 hit from enemy even better, activate Odin after getting hit
[4]Activate PR Loki then activate PR Endor
[5]Unscramble and try to do as many combos from the 3 new rows that appeared
[6]GG …. Else come back to this guide and start asking questions on what you did wrong lol
I am not the inventor of this runes movement. I merely invented the name for it (scramble and unscramble) and I do hope you can understand my explanation. If you have any links of it in action, feel free to let me know so I can add
---
---
Pending update to 8.0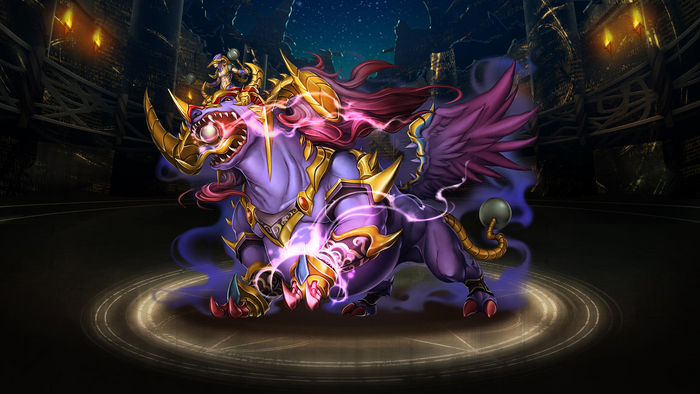 ---
---
[*]Pending update to 8.0
---
---
[*]
*Image found on imgur, my favourite image uploading website
*All image are taken from TOS Wikia gallery & TOS hehagame
*Runes image were taken from ToSGod app go visit this thread for more info
HERE (CLICK ME)
*Took me long long time to make and update this guide draining most of my brain, so if i miss anything or there is anything anybody wanna share please let me know
*Ask any questions you may have, I'll be happy to answer and I'm sure TOS Forum user will be happy to answer too.
ralfhero Wrote:I am lazy >_< really….
If there is any mistake or you have better suggestion, please let me know so I can change it.
Thank you for reading and joining the dark side I cannot do this alone lol
14/12/13 - Dark mono guide started (HeHeHe)
26/12/13 - I've added more info on Pyramid Style of Runes Stacking.
04/04/14 - Version 5.0 major update to my guide (Constructing)
08/04/14 - Scramble & Unscramble (finally done it)
09/05/14 - I've added Dark Mono beast, Dark Mono Fiend
22/05/14 - Version 6.0 Here we go again (Constructing)
30/06/14 - Changed image host and confirm working now
18/07/14 - Start on project 7.0
18/10/14 - Start on Project 7.2
30/12/14 - Start on project 7.5
01/03/15 - Start on project 8.1
25/04/15 - Throw project aside for my brain to recover