Hi all
, hope everyone is doing fine after Odin.
No pic yet so this space will remain empty.
★ One-week Exclusive Battles:
『The Three Moirai - Earth』
Time: Aug 26 (Mon) - Sept 1 (Sun)
---
Rewards: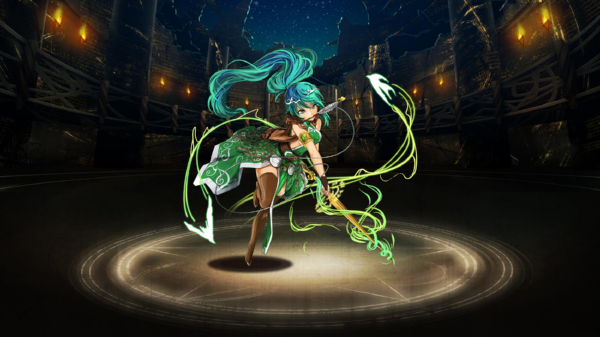 (from ToS wiki)
Fate Keeper Verdandi
Max Level Stats:
HP: 1869
Attack: 1073
RCR: 535
Total : 3477
Active:
Parasite effect
- Absorb all enemies' HP as much as your Self Recovery every turn.
Leader:
Polar Effect - Earth
- Dissolving Earth Runestones can also recover HP
*Note: Only the unevolved form will drop.
---
No noteworthy creeps unless otherwise stated.
Apprentice:
Boss
HP~50K CD2 Damage 687 [Drop rate: 1-2%]
Elite:
Boss
HP 225K CD2 Damage 2647 [Drop rate: 1-2%]
Master:
Boss
HP 441K CD2 Damage 5097. Every turn 7.5% HP damage (1 diamond for clearing) [Drop rate: 10-20%]
GrandMaster:
5/10: 3x Slimes HP ~36K Damage 14K CD 3
9/10: 3x Witches HP ~73K Damage 3467 CD 1
10/10:
Boss
HP ~850K Damage 9507 CD 2. Every turn 15% HP damage.
[Drop rate: 40-50%]
*Poison still takes effect even when control is used.
*Poison disregards all damage reduction effects.
---
Easy and straightforward battle as always for the Three Moirai series. You will need 11184 (before any reduction) HP if you are not planning for a damage-less kill. Otherwise, 850K is a pretty small amount of HP. Most offensive teams are able to deal that much damage in as much as 3 turns (if not less). Bring a healer/shield/control if you cannot kill it in 1/2 turns. Seth will be the MVP of this battle due to it being an all-earth battle as well as his ability to do very significant damage against Verdandi with his active. You might want to bring a healer in case you run out hearts.
So, the following teams have cleared GM:
1) Seth + GSoF/Cthulga/PQoW/Isabel + Seth
2) Fox + Medusa/Urd/Skuld/Idun + PKoE
3) Luminmetallic + Verdandi/Urd/Skuld/Valkyrie + Fox
4) PKoE + Verdandi/Skuld/Urd/Circe + PKoE
5) GSoD + GSoF/GSoE/GSoE/Urd + Fox
6) Tyr + GSoF/Cerberus/Hong Yue/Skuld + Medea
(from ToT's YT)
7) GSoD + Lunar Sirius/GSoF/GSoE/Medusa + Demon Bull
---
As always, feel free to share your thoughts and strategies.
Good luck on everyone bringing Verdandi home with you too!
The brightest light casts the darkest shadows.