Hi all
Before I start, I will like to gather suggestions and feedback regarding DSI threads to make it better. If it's within my ability and not too out of the way, it will be added into my next DSI, along with the current sections (Strategy, HoF etc.).
(from Google Images)
★Two-week Exclusive Battles:★
The return of 『The Ancient Dragon - Earth』
Time: Mar 31 (Mon) - Apr 6 (Sun)
---
Rewards: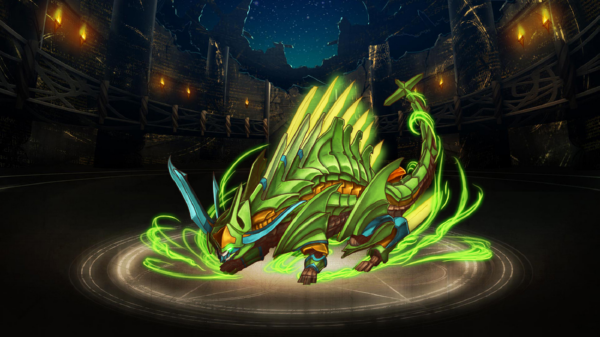 (from ToS Wiki)
Terrametallic Dragon Curtis
Max Level Stats:
HP: 5262
Attack: 1315
RCR: 40
Total : 6617
Team cost: 20
EXP to max: 5,000,000
Active:
Earth Blitz
- Earth Attack x 3000% on all enemies. Min CD: 8
Leader:
Fatal Hit
- Every turn, 30% chance of Attack x 600%. If HP is less than 10%, then chance of Attack becomes 50%
Hidden Skill with Nidhogg: When Nidhogg is set as the leader, Defensive Dragons' and Metallic Dragons' actives will have an additional effect of recovering 10% of damage dealt as HP. Not applicable if Nidhogg is set as a team member or ally.
*Note: Only the unevolved form will drop.
---
No noteworthy creeps unless otherwise stated.
All stats subject to change.
Apprentice:
[Drop rate: 1-2%]
[Stamina: 20, Exp: 500]
Boss:
HP 17040 Damage 2394 CD 2
Elite:
[Drop rate: 1-2%]
[Stamina: 30, Exp: 1500]
5/10: 2x Metallic Rhino HP ~100K Damage 1803 CD 1
Boss:
HP 120K Damage 6834 CD 2
Defense 1000
Master:
(1 diamond for clearing) [Drop rate: 10-20%]
[Stamina: 40, Exp: 3000]
5/10: 2x Metallic Rhino HP ~230K Damage 4358 CD 2 (Very small chance of dropping the previous event, this time not confirmed yet)
Boss
HP 600K Damage 7713 CD 2
Defense 5000
GrandMaster:
[Drop rate: ~50%]
[Stamina: 50, Exp: 5000]
5/10: 2x Metallic Rhino HP ~531K Damage 7213 CD 2 (Very small chance of dropping the previous event, this time not confirmed yet)
9/10: 3x Witches HP ~136K Damage 4265 CD 1
Defense 3808
10/10:
Boss
HP 890K Damage 12025 CD 2
Defense 12000, Halves attacks of Gods
---
Really easy battle. For those who can clear the Pyrometallic battle with ease, that set-up
should
work fine for you this battle.
MVP for this battle will be Seth, since it's an all Earth stage. 2 effective blasts of Seth should put a dent in Curtis.
Going offensive shouldn't be a problem for majority, just make sure you have 12025 HP (and enough RCR to back it up) if you are unable to kill it in 2 (5 with control, more if you have shields) turns. Either have enough RCR to kill it, or enough firepower to down it quickly. Shields and controls are always helpful, if you need them. Be wary of stage 9 too, as the witches have quite a bit of hp to sunder through.
Otherwise, a defensive set-up should work too with Tauros/Govindasaur/Wukong/Domon etc. PQoW and Odin works too, just gotta be very careful at the sub-boss stages. Or RCR (make sure you have sufficient HP) with PKoF/GSoF/Virgo/Poppy/Urd/Verdandi/Skuld. The trusty dual PKoL should work too. Do note that he has a defense of 5000 at GM, which may be tough to crack for a defensive set-up. Diablo should work well too, but as always, got to be wary of the sub-boss stages.
---
So, the following teams have cleared GM:
*All Videos belong to their respective owners
**Disclaimer: All teams are subject to team level and players' skill, it may not work even if you have an identical set-up.
Videos from current release:
1) Tyr + Odin/Medea/Sean/Agatha + Tyr
2) Sean + GSoF/Cerberus/Medea/Achilles + Jackie
3) Santa + Sean/Medea/Cass/Circe + Santa
4) Freyja + Circe/Domon/Tribal Chief/Duncan + Freyja
5) Thor + Nathaniel/Faust/Honor/Minamoto + Thor
6) GSoD + Cerberus/GSoF/GSoF/Sean + Greenery King
7) GSlime + Griffin/GSoD/GSoF/GSoE + Greenery King
Videos from previous releases:
1) -
2) Artemis + GSoD/Baphomet/Fox/Odin + Artemis
3) Solar Sirius + Medea/Hongyue/Hongyue/Medusa + Lunar Sirius
4) Hep + Medea/GSoF/Cerberus/Achilles (unevolved) + Hep (the quintessential fire-greek)
5) Cerberus + GSoF/Hongyue/Medea/Achilles + Fox
---
As always, feel free to share your thoughts and strategies.
Good luck on everyone bringing Curtis home with you too!
The brightest light casts the darkest shadows.