Hi all
(from Google Images)
★ One-week Exclusive Battles:★
『Descent of Spirit - Light 』
Time: Sept 9 (Mon) - Sept 15 (Sun)
---
Rewards: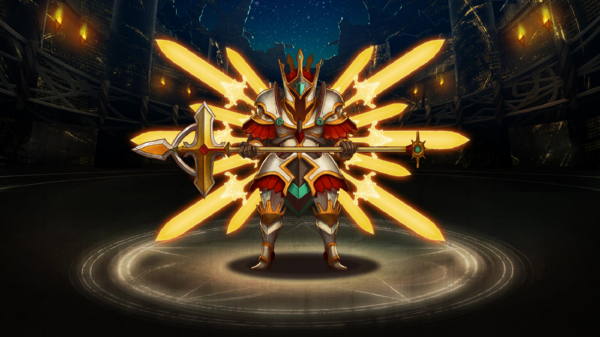 (from ToS Wiki)
Paladin King of Light
Max Level Stats:
HP: 2254
Attack: 1107
RCR: 429
Total : 3790
Active:
Full Heart
- Fully recover HP
Leader:
Human Vitality
- Humans' HP x 250%
More on Paladins
HERE
*Can be fed to Saruman/another PKoL to increase skill level
*Note: Only the unevolved form will drop.
---
No noteworthy creeps unless otherwise stated.
All stats subject to change.
Apprentice: [Drop rate: 1-2%]
[Stamina: 15, EXP: 300]
Boss
HP 60K Damage 1707 CD 3
Has Enchanted Shield
Elite: [Drop rate: 1-2%]
[Stamina: 20, EXP: 600]
6/7: Valkyrie HP ~30K Damage ~1500 CD 2
Boss
HP 160K Damage 4147 CD 3
Has Enchanted Shield
Master: (1 diamond for clearing) [Drop rate: 10-20%]
[Stamina: 25, EXP:1500]
6/7: 2x Valkyrie HP ~100K Damage 3574 CD 2
Boss
HP 300K Damage 9637 CD 3
Has Enchanted Shield
GrandMaster: [Drop rate: ~50%]
[Stamina:30, EXP: 2000]
Noteworty creeps: Combo-shield wolf
6/10: 2x Valkyrie HP 194500 Damage 3213 CD 2, 1x Evolved Valkryie HP 525K Damage - CD2
80% HP damage when CD = 0 (although it reads 70%)
9/10: Phantomasaur HP960K Damage 6608 CD4
30% HP poison every turn
10/10:
Boss: Paladin Spearman
HP136K Damage 10487 CD 3
Has Enchanted Shield
When killed, evolves to:
Boss: PKoL
HP 1.015 Mil Damage 11870 CD 2
Has Enchanted Shield
---
Easy battle for majority of offense teams. Those teams that cleared the PKoE battle with ease should do so for this too. I suggest storing CD before the Valkyrie stage. If you enter the stage with same CD, it's instant death. You have to sweep through that stage as fast as you can, unless you are that confident about your RCR. IMO, stage 6 and 9 are more of a hassle than the final stage itself, so you should have no problem clearing if you can reach the last stage.
I do not recommend going defensive as the Valkyrie stage is gonna be a pain in the ass to get by. Only defensive set-up I recommend is a RCR-based set-up, e.g. GSoF/PKoF/Poppy/Virgo/Skuld/Idun/Verdandi/Circe/Medea/Cass etc.
If it's enchanted shields, Norse/Greek Gods are clear winners for MVP. Beasts come in second for their conversion abilities. Glut slime is a very good choice too, although you might have HP issues. Gemini is also one of the few use-able cards that can convert to Enchanted runes.
Avoid:
1) Bringing a HP team; you wouldn't survive the Valkyrie stage
2) Bringing a defense reduction team; same as above, but maybe to a lesser extent.
So, the following teams have cleared GM:
*All Videos belong to their respective owners
**Disclaimer: All teams are subject to team level and players' skill, it may not work even if you have an identical set-up.
1) Gemini + Baphomet/Odin/Artemis/GSoF + Gemini
2) Loki + Gemini/Baphomet/Felix/Cass + Fox
3) I've heard light mono-greek can clear this with ease too, but I'll wait for a video.
4) Glut slime + GSoD/GSoF/Griffin King/Urd + Demon Bull
5) Tyr + GSoF/GSoF/Cerberus/Achilles + Poppy
6) GSoD + GSoD/Baphomet/Lunar Sirius/Baphomet + GSoD
---
As always, feel free to share your thoughts and strategies.
Good luck on everyone bringing PKoL home with you too and those leveling their Full Heart skills too.
The brightest light casts the darkest shadows.